Backstage tours
Our popular backstage tours are organized several times a month. Tickets to our tours must be purchased in advance through our webshop.
You can attend the tour solo or with friends – there is room for 25 persons on each tour. Tours are normally in Finnish and last roughly 1,5 hours. If you are interested in booking a tour in English, please contact our sales team by phone (02 262 0030) or by e-mail (myynti@tkteatteri.fi).

Our guided tour allows you to take a deep dive into the theatre building, our manufacturing facilities and different theatre professions. You will be able to enter spaces that are normally out of bounds for the audience and perhaps even glimpse sets or costumes for upcoming plays. You will also be able to explore the stage from the actor's point of view.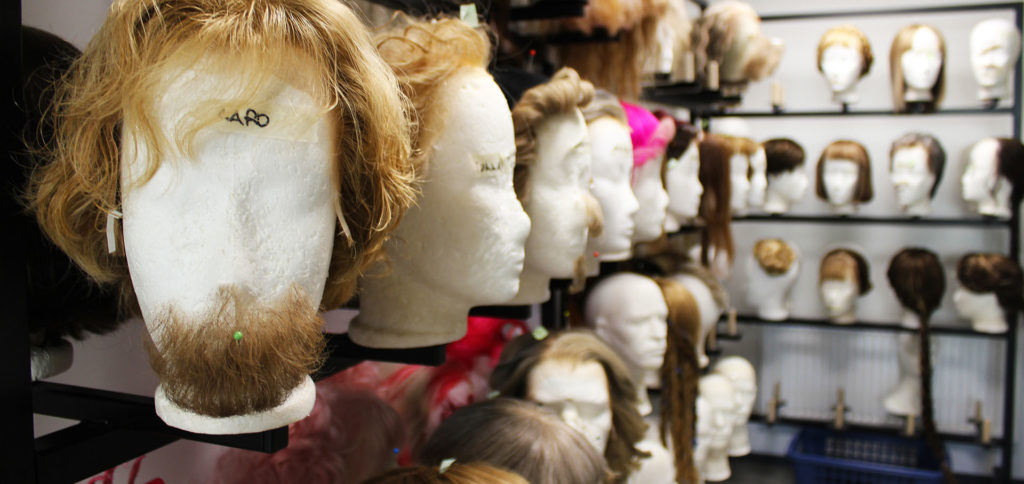 Tickets online
Tickets to our backstage tours are sold through our webshopOpens a new tab and our box office. The ticket price is 10 €/person. Tickets can also be purchased via Lippu.fi sales points (which charge a service fee). Small children in baby carriers can attend the tour with their parents free of charge, but kids who are able to walk on their own will need a ticket. You will not be able to bring strollers along on the tour, as the tour involves frequently moving up and down stairs.
Tours for groups
Groups can book a guided tour in advance for the time slots available for backstage tours on our webshop. One guide can only accommodate 25 persons at a time, but multiple tours can be organized simultaneously.
If your group consists of less than 25 persons, other patrons may book tickets to join your tour. We do not offer group rates, so the ticket charge is always 10€/person. Tours are mainly organised in Finnish, but English and Swedish tours are available upon request (contact our box office or sales team for more information).
Accessible tours (for persons in wheelchairs or who have trouble with stairs) can be arranged upon request. Please contact Outreach Coordinator Aatu Pyy for more information (aatu.pyy@tkteatteri.fi).
Your tour visit
Do not attend the tour if your are exhibiting flu symptoms.
Tours start at the theatre lobby.
Large bags, backpacks or food items can not be brought along on the tour. Clothes and bags can be stored for free in the lobby coat-check, but as storage is unattended during tours the theatre cannot be held responsible for missing items.
The theatre building is a delightful, topsy-turvy maze. This means that the tour involves frequently moving up and down stairs, and there are few breaks in-between.
Close-up photography of employees, personal working spaces and items expressly prohibited by the guide is not allowed. Aside from this, you are free take pictures on the tour and share them with the tags #tktkierroksella and @tkteatteri.